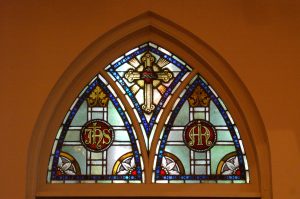 SCRIP
Scrip is a wonderful way to help the church without spending an extra dime. The retailers of prepaid cards are paying our church to sell their cards and we receive a percentage to do this. You can buy from Showtime Cinema, Sear, Papa Johns, Marsh, Burger King, Bass Pro Shop, Speedway Gas, and iTunes as well as local retailers like Becky's Place, Brian's Bookstore & Coffee Bar, Gough's Auto Repair, Jerry's Pizza, Kunkel's, Maggie's, Parkview Restaurant and Southern Style Family Dining.
Another reason to use SCRIP is that 25% of the revenue produced by your purchases of SCRIP can be used for your child's school tuition. Family and friends can save their receipts  and pass them on to you to help you reduce your tuition costs. To redeem your tuition reduction, save your numbered receipts and turn them into the parish office at the required time.
SCRIP can be purchased after Mass in the Parish Meeting Room or online. To register, go to www.shopwithscrip.com. Sign up as a member and then "Join and Non-Profit" and type in our church's enrollment code L56ADBCC17314. You will need to sign out and then sign back in.  Next, sign up with Presto-Pay, a secure check payment program. This is the only method of payment we will be accepting for online orders.
Time Required: 20 minutes every month after Mass
Contact: Melody Crawford 825-6448