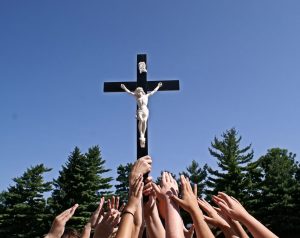 St. Gabriel Catholic School Annual Fund
The Annual Fund is a donation based program that supports the tuition assistance program for parish families who choose a Catholic education for their children but cannot afford to pay the full tuition rates.  Donations help maintain a financially sound school budget while helping to keep tuition increases manageable for parish families, as well as meeting the financial demands of increases in educational materials and the high cost of educational technology. Most importantly, donations aid in keeping the best teachers and staff to educate our students.
Please, consider helping our children of today be faith filled leaders of tomorrow.  
Contact – Sue Bath or Diane Gough 825-7951
Budget Facts
The actual cost to educate one student during the 2014-2015 school year (180 days) was approximately $6,000 per child. Fayette County schools spent approximately $10,887 per child.

The difference between tuition charged to the families and the actual cost to educate ranges from $3,000 to $10,000 (depending on the number of children in the family). This difference is paid for with the parish subsidy.

Over the past 19 years, tuition rates for parish families have increased 45% to 90% depending on the number of children in the family. In spite of the tuition increase, the declining school age population in Fayette County, and a lack of economic prosperity locally, St. Gabriel School's enrollment remains steady. (151 students preschool through sixth grade)

The Parents and Teachers of St. Gabriel (PTSG), our parent/teacher organization, raises over $20,000 each year to cover expenses not included in the school operation budget. 

St. Gabriel School has two endowments – St. Gabriel School and the Richard and Rita Giesting Scholarship Fund in which the school has benefited from the generosity of many people. Both endowments' interest earnings are dedicated to support St. Gabriel School.

St. Gabriel School faculty salaries are 80% of their counterparts in the local public school system. This equates to a sacrifice of $10,000 annually for our most experienced teachers.