Religious Education
K-6th Grade
We encourage all families with youth in these grades to attend a monthly session called Family Formation.  This is a unique family catechesis program which promotes parents as the primary educators of their children in the Catholic Faith.  This group meets once a month in individual groups. The adult group discusses with Fr. Dustin the month's topics and how to teach their children the home lessons. Meanwhile the children meet in a classroom for a lesson and activity. 
Registration Form for Family Formation for the 2016-2017 School Year.  Due July 18th.
Sample Lessons
7th Grade
The youth meet monthly, usually the 2nd Wednesday of the month, from 7:00-8:30 p.m. Each class provides catechesis appropriate for this age group along with preparing them for Confirmation their 8th grade year.
Confirmation Preparation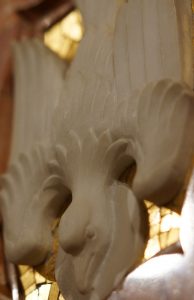 Each time a youth is confirmed, he or she takes his or her place in the wider community of faith.  During the 8th grade year, youth wanting the Sacrament of Confirmation must attend monthly classes. Classes are held September through April, and the Confirmation Ceremony is usually held in May of each year.  The classes and activities are designed to fulfill the requirements established by the Archdiocese of Indianapolis.
Contact: Denise Dubois – 825-8578 | denise@stgabrielconnersville.org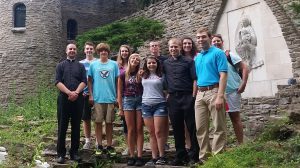 Youth Group
All youth group activities are sponsored by The Sons and Daughters of St. Gabriel.
The Sons of St. Gabriel and the Daughters of St. Gabriel
These groups were created to further individual Catholic faith formation after Confirmation, to also be a part of a Catholic youth community, cultivate leadership skills and nurture vocational discernment.
All high school and middle school youth are encouraged to join these groups.  All programming and activities are decided by the youth for the youth with assistance of adult advisors.  Each group elects officers who have various responsibilities.  Their focus is to serve God and His Church at our local parish using their many gifts and abilities.  They strive to be examples of good Christian sons and daughters in our parish and to help inspire the faithful in a reverent and prayerful liturgy.
Each group has established 5 levels within the group.  Each level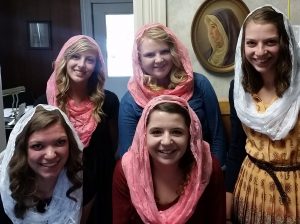 requires additional duties and responsibilities but it is not mandatory that they move up in levels.  The Daughters wear a certain color infinity scarf/veil depending on their level.  These are worn around the neck or as a veil on the head during the Masses that are led by theses groups, usually the second Sunday each month.
Levels
The Sons of St. Gabriel
First Level: Recruit/Pledge – Torch Bearer
Second Level: Elite Torch Bearer
Third Level: Crucifer
Fourth Level: Thurifer
Fifth Level: Master of Ceremonies
The Daughters of St. Gabriel
First Level: Novice – Gray Scarf/Veil
Second Level: Marion – White Scarf/Veil
Third Level: Marian – Lavender Scarf/Veil
Fourth Level: Magdalene – Rose Scarf/Veil
Fifth Level: Ave Maria – Dark Blue Scarf/Veil