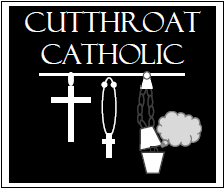 A St. Gabriel & St. Bridget Competition
Beginning April 27th                  Ending May 13th
On the reality cooking TV show, Cutthroat Kitchen, chefs were asked to overcome major obstacles and acts of sabotage as they prepared dishes. As Catholics, we are also trying to overcome some major obstacles in practicing our faith during a pandemic. Although we won't be sabotaging each other, we decided a fun competition may motivate and introduce us to new ways to live our faith while social distancing.
Instructions:
Attached are social distancing ideas for the Spiritual & Corporal Works of Mercy which have been adjusted for elementary (4 years old-6th grade) and teen/adult age groups. Use these as a resource for keeping track of each completed task. Also attached is an example tracking form, but feel free to record points in a way that makes the most sense for your family. Each person in the family will need to record his/her own points as follows:
5 points: each task completed individually
10 points: each task completed together by two or more people
(Each person will record 10pts on his/her form)
20 points: participation in Sunday Mass on YouTube
(Each person will record 20pts on his/her form)
Families should look over their tasks together each evening to reflect on what they have accomplished and to tally points. At the end of the competition on May 13th, families will divide their total points by the number of people in their family (aged 4 and up). This should ensure larger families will not automatically outscore an individual/smaller family. Submit your tallied points and tracking forms to Kate Vu.
Prizes:
The top 3 families earning the most points will be rewarded as follows:
1st Place: Dinner and family game
2nd Place: Dessert and family game
3rd Place:  Family game
Click the following link for a printable PDF version of the following charts and example tracking form.
Cutthroat Catholic Competition PDF