May 12, 2020
Dear parishioners,
I do pray that this letter finds you well and, like me, you are anticipating the re-opening of our parishes.  As the purpose of this letter is largely practical, I'll keep my words brief in this introduction.  While I do look forward to seeing and praying with many of you in person, what the Archbishop continues to emphasize bears repeating:
No Catholic in the Archdiocese of Indianapolis is required to come to Mass at all during this time. The Sunday obligation remains lifted until August 15.  Our parishes will continue to livestream most Masses (Tue-Fri & 1 Mass per weekend) so people stay connected if they decide to stay home.
Everyone should recognize that there is an inherent risk in coming to church. As such, those who are 65 and over and those with high-risk health conditions should remain at home. This is the population that is most vulnerable to the coronavirus. Of course, those who are symptomatic or have tested positive for COVID-19 must not enter a church until released to do so by their health care professional.
In short, you need not feel guilty if your household, or part of your household, chooses to not attend Mass.  If you are sick, do NOT come to church.  Otherwise, the decision is yours to make.  Following the Archbishop's lead, I encourage you to make the most prudent decision for you and your household in determining whether to come or not to come to church.
While it is impossible to eradicate the risk COVID-19 poses to church congregants, our parishes will be taking many good measures proposed by the CDC, Gov. Holcomb's plan, and the Archdiocese to lessen that risk as much as possible.  These measures include the following:
Our churches will always be less than 30% full to allow for social distancing.
Every other pew will be blocked off.
Masks are very strongly encouraged, and if you do not have one, some will be available for you to keep.
Hand-holding, Sign of Peace, distribution of the Precious Blood, and Holy Water all remain suspended.
Communion will take place after Mass is over in a new format that assures social distancing. Parishioners will leave the church upon receiving Holy Communion rather than return to their pews.
Volunteers will disinfect the church after every single Mass.

If you are younger than 65, please email me or call the Parish Office to volunteer for this. We cannot resume public Mass until we have enough volunteers to disinfect the church.
Primary Goal of our Parishes during this time:
 Ensuring that our parishioners have the opportunity to attend Mass once per week; Tuesday through Sunday. Do not expect to go to Mass every weekend. Because the obligation to attend Sunday Mass is lifted, it is perfectly fine to go any day during the week. Public Masses resume Tuesday, May 19.
Interim Mass Schedule: To Begin Tuesday, May 19
Tuesday – 8:30am at St. Gabriel
Wednesday – 6:00pm at St. Bridget
Thursday – 6:00pm at St. Gabriel
Friday – Noon at St. Gabriel
Saturday – 5:30pm at St. Gabriel
Sunday – 8:15am at St. Bridget
– 10:30am at St. Gabriel
How should you decide which Mass to attend?
If you can make Mass during the week, please do not go on the weekend.
If you can make Mass during the daytime, please do not go in the evening.
If you can only make Mass during the evening or weekend, feel free to sign-up for those Masses.
Requirements for Attending Any Mass
You must be healthy and not experiencing any symptoms.
You must reserve a seat:
Reservations must be made through our website or by calling the Parishes' Office.
Link: http://stgabrielconnersville.org/mass-reservations/
               Please mind which week you choose when making reservations.
Phone: 765-825-8578 (ext. 0)
If you have to leave a message, please speak clearly and leave your name, phone number, desired Mass (date and time), and number of seats to be reserved.
Masks are very strongly encouraged. If you do not have a mask, there will be some available for you to take and keep.
Depart the church after receiving Holy Communion.
Hand sanitizer and tissues will not be provided at Mass. You must bring your own.
You must be responsible and take with you any trash or music sheets when you leave your pew to go to Communion.
Be seated only in pews that are not roped off and maintain 6ft social distance in between family units. St. Gabriel's choir loft is permanently off limits.
No congregating in the church before or after Mass.
Entering the Sanctuary and/or Sacristy is strictly forbidden.
What differences to expect at Mass?
The Mass will look and feel very differently than what we are all used to. There is going to be some trial-and-error, lots of explanations, and people's patience may be tested. Please be patient and never doubt that your presence is appreciated. These differences are for everyone's safety and to help keep people watching from home connected to the Mass and our parishes.
The following liturgical ministries are suspended: EHMCs, Sacristans, Altar Servers/M.C.s
No opening or closing processions, no hymnals, no printed bulletins, no Holy Water, no hand-holding, no Sign of the Peace, no distribution of the Precious Blood, no lines for Communion
Limited music/singing
Communion will take place after Mass, and lots of explanation will be given about the new procedures.
Please drop your Sunday giving in the baskets provided on your way to Communion. These baskets will be out at every Mass.
Due to livestreaming, Fr. Dustin will have his computer setup in the Sanctuary.
Church Entrance/Exit Procedures for Mass
Doors will be unlocked and open 30 minutes before Mass.
At St. Gabriel, only the main 9th doors and the ramp door will be unlocked and opened for entry. At St. Bridget, all entries will be unlocked and opened.
We hope to have ushers at every Mass to assist with seating. If not, please fill the pews in the front of the church first.

Only sit in pews that are not roped off.
Please leave the very front rows for parishioners with mobility struggles and their caretaker/household.
If your household contains two people or fewer: find a short pew and be seated or enter a large pew that already has two people or fewer in it and sit on the opposite end of the pew. 6 ft. of space must be maintained between households sharing a pew.
If your household contains three or more people, find an open pew. Please ensure that no other household sits in this pew.

Depart the church after you receive Holy Communion.
You must be responsible and take with you any trash or music sheets when you leave your pew to go to Communion.
Funerals
We are permitted to offer Funeral Masses again. However, funeral meals continue to be suspended. When it comes to Funeral Masses, the number of attendees will be capped at 25 and limited to immediate family only. Only the first four rows of pews may be used. Depending on availability, there may be an organist and cantor. However, there will be no choir nor any other liturgical ministers. If the family wishes, we can arrange for the Funeral Mass to be livestreamed during this time.
Private Prayer in the Church
The St. Gabriel church ramp door will be unlocked M-F between 9a-4p for private prayer. Should you enter the church at any time outside of Mass, you are responsible for cleaning and disinfecting any area you use. Disinfecting Kits will be available inside the ramp entrance for you to use on any seat, handrail, kneeler, door, etc. with which you have come into contact. Instruction cards will be taped to the kits.
Confessions
Confession Locations:
St. Gabriel – Parish Meeting Room
St. Bridget – St. Anthony Center Classroom
We recommend that only 1 person stand in line at a time and others wait inside their vehicles.
Please maintain social distancing if in line.
  Confession Times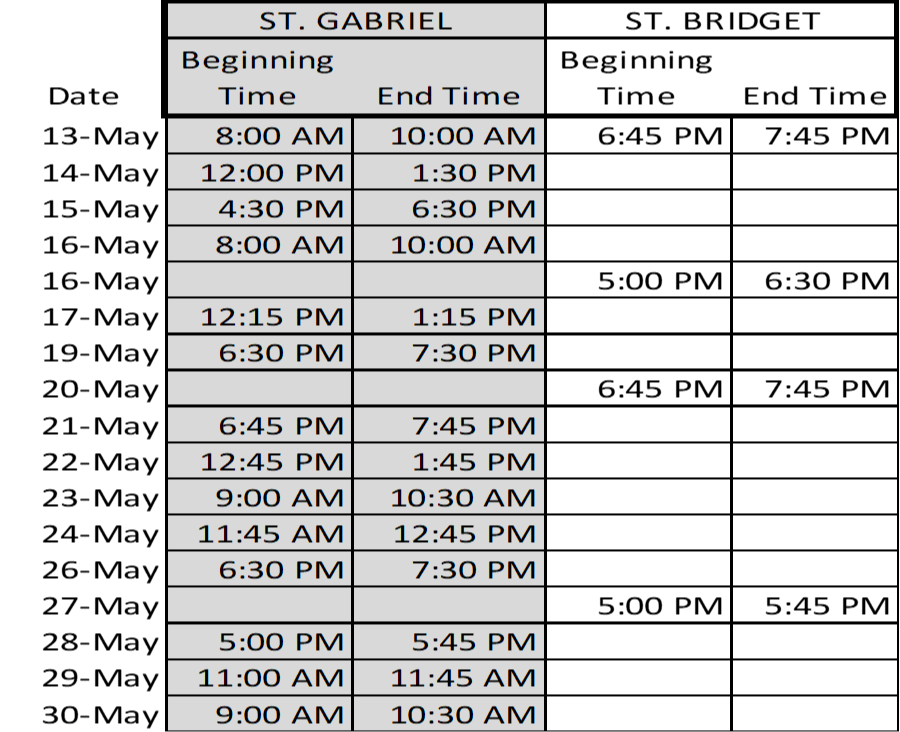 Finally, Communion to the sick and homebound remains suspended per the Archdiocese of Indianapolis.
Thank you for your patience in advance with all that lies ahead and know of my prayers for you.
Sincerely,
Fr. Dustin Boehm
Pastor