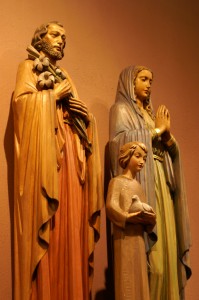 Sacramental Marriage is a call from God and a shared vocation between a man and woman who choose to love each other as Christ loved.  It is a lifelong commitment that is as irrevocable as it is sacrificial, as joyful as it is difficult, as unpredictable as it is mundane.  Marriage is the most beautiful and necessary context from which real life enters our world and changes it forever.  This unique Sacrament is a path that is opened up and can be traversed only with God's Grace at work within two so-disposed spouses.  Marriage truly is one of the most exalted vocations within the Christian life.  And our parish and community needs the truth, beauty and goodness God desires to uniquely impart through a Sacramentally Married bride and groom.
Marriage Preparation
Couples seeking to marry in our parish must initially meet with the pastor no less than 9 months prior to their desired date of marriage.  Please call the parish office in order to meet with Fr. Dustin.
Contact the Parish Office – 825-8578
Papers for Marriage preparation