The whole Church is a priestly people. Through Baptism all the faithful share in the priesthood of Christ. This participation is called the "common priesthood of the faithful. Based on this common priesthood and ordered to its service, there exists another participation in the mission of Christ: the ministry conferred by the sacrament of Holy Orders, where the task is to serve in the name and in the person of Christ the Head in the midst of the community.
(The Catechism of the Catholic Church 1591)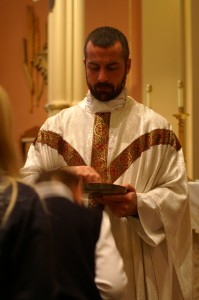 The mission entrusted by Christ to his apostles continues in the Church until the end of time: thus it is the sacrament of apostolic ministry. It includes three degrees: the bishops, priests, and deacons.
Religious Life includes those that embrace the spirituality, charism and teachings of the community's founder. Members of these communities follow Jesus through taking vows of poverty, chastity and obedience. They grow in holiness through their gift of themselves to God and His people.
The "Sons and Daughters of St. Gabriel Parish" whom have received Holy Orders and gone on to Religious Life are:
Fr. Joachim Walsh, OSB
Fr. Frederick Walsh, OSB
Fr. Noel William, OFM
Fr. Marion Walsh, OSB
Fr. Ludwig Stiller, SJ
Msgr. J.J. Riedman, OSF
Fr. Robert Mazzola, OSF
Fr. Stephen Jarrell, MDiv,MA
Past pastors of St. Gabriel Church
Mother Maria Gratia Luking S.P.
Sister Mary Clement Brennan, S.P.
Sister Mary Lenore Brennan, S.P.
Sister Virginia Walsh, OSB
Sister Mary Herbert Walsh, OSB
Sister Marion Walsh, OSB
Sister Agnes Willhelm, OSF
Sister Shirley Massey, OSF
Sister Lorraine Geis, OSF
Sister Rosie Miller, OSF
Sister Helen Vermeulen, OSB
Reverend Stanley Herber (1995 – 2014)
Reverend Francis Eckstein (1986-1996)
Reverend Gerald Renn (1982-1986), Deceased,
Monsignor Harold Knueven (1975-1982)
Reverend John J. Minta (1973-1975), Deceased,
Reverend Arthur Mooney (1951-1973), Deceased,
Reverend Thomas McGrath (1941-1951), Deceased,
Reverend Cornelius Bosler (1939-1945), Deceased,
Reverend Timothy Kavanaugh (1931-1939), Deceased,
Reverend Joseph Lannert (1931), Deceased,
Reverend Michael Wagner (1927-1931), Deceased,
Right Reverend Theodore S. Mesker (1906-1927), Deceased,
Reverend F. J. Rudolf (1881-1906), Deceased,
Reverend B. H. Seepe (1876-1881), Deceased,
Reverend Peter Bischof (1874-1876), Deceased,
Reverend Henry Peters (1853-1874) Deceased.
Thirty assistant pastors have also served Saint Gabriel since 1927.  They Include:
Reverend John O'Brien
Reverend Louis Manna
Reverend Patrick Harpenau
Reverend Michael Widner
Reverend John Maung
Reverend Glenn O'Connor
Reverend Mark Gottemoeller
Reverend Sam Curry
Reverend Peter Adolay
Reverend Bernard Koopman
Reverend Robert Mazzola
Reverend Thomas Withem
Reverend John Hartzer
Reverend Charles Berkemeier
Reverend Edward Gayso
Reverend John P. Fitzgerald
Reverend George Powers
Reverend Thomas Lyons
Reverend John Walsh
Reverend Ambrose Schneider
Reverend Robert Minton
Reverend Robert Walpole
Reverend Bernard Shea
Reverend Charles Kabey
Reverend Clarence Recker
Reverend Ralph Doyle
Reverend Anthony Seger
Reverend Joseph Schaefer
Reverend James W. Moore
Reverend Thomas Hoffman